Precision Boat Works now enters its historic 40th Year of daily operation by Bill and Richard Porter. They also build the very popular Colgate 26 as used by hundreds of private owners as well as over 40 boats used by the US Naval Academy and US Coast Guard Academy. In addition, they have a stellar background in boat tooling and have built numerous plugs and molds (up to a 1OO foot sailboat hull mold) for many power and sail companies. Precision Boat Works is one of the oldest family owned sailboat builders in the United States and Canada.
Since our founding in 1978, Precision Boat Works continues to be a well run successful small business as over 110 small sailboat builders in this size range of boats (13' to 28' family monohulls) have ceased to exist during this time period (1978 to 2013) Unlike those defunct builders, Precision Boat Works continues to grow and thrive as further testimony to the Porter Brothers abilities to provide continued support to the small sailboat industry with a sailboat product line that enjoys a well deserved reputation for delivering an honest boat that sails well, provides pride of ownership, is easy to use and provides trouble free service.
Most small sailboat buyers are amazed at the number of small sailboats on the market that are not designed by a yacht designer. People would never consider buying a house designed by someone who is not an architect. Would you consider buying an airplane not designed by a trained aeronautical architect? Absolutely not. So, why would you buy a sailboat that is not designed by a naval architect? You will not have that problem with Precision.
Unlike most other small sailboat builders, Precision utilizes the genius of an experienced Naval Architect, Mr. Jim Taylor of Marblehead, MA. Jim has a very impressive background, from 12' boats to America's Cup programs; Jim is also a Six (6) time "Boat of the Year" winning designer, an award presented each year by Cruising World & Sailing World Magazine. So if you are considering any other brand of sailboat, insist that the builder or dealer provide you with their designer's bio. As you research/compare features & benefits with other brands, one has to compare designer accomplishments as well. Do not take no for an answer, make sure you add yacht designer accomplishment comparisons to your new boat purchase research.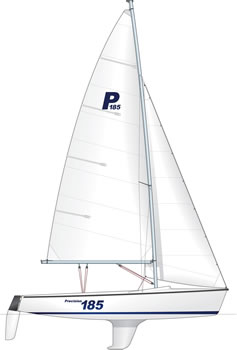 Good sailing traits are extremely important in sailboats; there are very few things more frustrating than an ill mannered sailboat. All Precision models are very well known for delivering boats that feature comfortable, ergonomically correct seating, robust simple construction, timeless styling and exceptional sailing characteristics. It has long been said that if someone does not care about good all around sailing traits and proven yacht design, they will have far more fun on the water in a power boat than trying to have fun with the family in an uncomfortable ill mannered sailboat! If sailing is a sport you enjoy………………….the choice is Precision Boat Works.
And our sailing dinghy's, the 15, 165 and 185, also benefit from Jim Taylor's skills................the cockpits are comfortable for adults, whether sitting on the seats or sitting outboard on our wide coamings, they are comfortable. Go sit in a competitor's dinghy cockpit for a decent period of time, try to imagine the boat healed 10/15 degrees and then ascertain which brand is more comfortable for the afternoons sail. You will find Precision to be much more comfortable and really learn what good ergonomic design can do for you and your families comfort.
Good hull form stability is important with sailing dinghies. Our P-15 Centerboard, P-15 Keel, P-185 Centerboard and P-185 Fixed keel boats feature a balance of the waterline beam & deck beam for maximum stability and large cockpit room with the need to keep the wetted surface area to a minimum to ensure good sailing traits. Again, not many people building small centerboard boats have the many skills of Jim Taylor involved, nor the nearly 30 year experience of the Porter Brothers building quality value engineered hand laid fiberglass sailboats.
Our Keel/Centerboard series, P-18, P-21 and P-23 are unique in the small family cruising sailboat market as we exclusively design and build them with the most practical solution for "trailerable" sailboats. The internal lead ballast/shoal keel/fiberglass centerboard combination gives you the benefit of fixed lead ballast below the hull of your boat providing stability and off-wind performance while the centerboard can be lowered easily by even a child with a simple Dacron line control for superior windward performance. In addition, the shoal draft fixed keel serves as the centerboard housing so the cabin floor is flat and not encroached upon with a swing keel or centerboard housing to stumble over.
And math helps to prove another benefit of our cast internal lead ballast keel/centerboard design. The fixed lead ballast is far more efficient than other brands that use cast iron or water or even concrete as a stabilizing material in their keels. As the density is far greater with cast lead, the surface area that the ballast needs is also smaller, so less wetted surface area underwater is required for the keel section, again, more efficient.
Cast Lead per cubic foot weighs 708 pounds
Cast Iron per cubic foot weighs 450 pounds
Concrete per cubic foot weighs 140pounds
Salt water per cubic foot weighs 64 pounds
Fresh Water per cubic foot weighs 62 pounds.
Pretty easy to see which one is better for sailboat ballast? What ballast material would you choose for good sailing traits? Which ballast material do you want to provide for safer & more efficient stability? Lead.
Other ballast types can be a marketing "fad" or just plain cheaper, not better. Lead is the choice for most all of the leading larger expensive production & custom yachts around the world, so...why not use lead in a trailerable sailboat? It is the right thing to do. Our Precision P-15K, P-165, P-185K, P-18, P-21 and P-23's all utilize cast lead ballast.
Additionally, some other brands of boats bring the cabin top outboard to the edge of the boat's hull to give you the "illusion" of more interior room. Those designs are a potentially unsafe deck design arrangement as it adversely affects your ability to safely move around on deck (high step from cockpit, no handholds, narrow or no walkway forward, etc.) while the boat is in motion. Precision, like other quality large yacht builders, provide safe, wide side decks with molded in non-skid to make it much easier and far, far safer for you and/or your family to mover forward on the boat. We also feature inboard shroud placement, we have placed the shrouds inboard so you can easily walk around them on your way forward as well as allow you to pull your jib/genoa in closer to centerline for better windward performance.
| | | |
| --- | --- | --- |
| | | |
| | Check out the Sailing World Magazine 2003 Boat of the Year for Best Value Winner - The Precision 185 | |
| | | |
With Precision Boat Works, you, the small sailboat buyer/owner is our only customer. We do not have the distractions that some of our competitors have as they focus more on the bigger boats and bigger boat customers. We build robust small family sailboats from 15 feet to 23 feet and if you & your dealer require our attention, you will not have to stand in line while some bigger boat customers receive all the consideration. We focus on your boat…………and your families sailing enjoyment.
Of special note, the employees of Precision Boat Works that are building all of our boats for you are very experienced in the construction of our boats. Collectively, they have over 150 years of dedicated Precision boat building experience! Your new boat will be constructed by caring individuals that are well versed in Precision as well as general boat building construction methods. And even with that experience, we are constantly learning and trying to do things better every day.
On occasion, a new sailboat buyer will be swayed by a lower cost boat as the overriding factor in their buying decision. Unfortunately, they soon discover that they have purchased an uncomfortable ill mannered boat that just is not enjoyable to use. Then the boat sits unused and the family does not like the boat. So, they in fact did not save any money, rather, they have wasted the entire investment in a sub-standard boat. While it may be an overused phrase, as it pertains to a sailboat purchase, "The bitterness of poor quality remains long after the perceived sweetness of a low price is long forgotten" could not be more accurate.
As you do the homework, you will see why Precision Boat Works continues to be the well informed sailor's choice. If you & your family would like to acquire a smaller trailerable sailboat that actually sails well and is fun to use, we welcome you to join the growing family of Precision Boat Works owners & experience the pride of ownership that a new Precision provides.